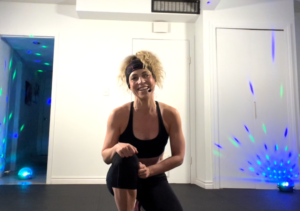 Growing up in the Province of Quebec, fitness was a huge part of my life, starting from a very young age. I started figure skating when I was four years old and, in my teens, became a provincial figure skating athlete. For years, I loved figure skating and training. However, as a teenager, the pressure associated with competing changed how I felt about the sport I was passionate about. At age 17, I hung up my skates. I left my love for skating and fitness behind, like an old boyfriend who had broken my heart and who I wanted to avoid running into.
Years started to pass, pounds started to accumulate, and my energy levels began to fade.
Then one day, I decided to be more active and focus on my health again. I started going to the gym and built the habit of getting on an exercise cardio machine a few times a week, where I would catch up on fashion magazines, read books or simply focus on the number of calories spent during my workouts. I can say that I didn't really love my workouts at the time but luckily, that changed after going to my first group fitness class. That day changed my life. I left the class feeling energized, inspired, and looking forward to the next class. I started shedding the extra pounds I had gained, I started getting my strength and stamina back, and I felt like I could take on the world! Group fitness was magic to me.
In 2005, I became a certified fitness instructor.
I approach teaching fitness with discipline, commitment, and most importantly, love and passion. To this day, I am thirsty to learn and grow my fitness knowledge and share that knowledge with the world. I love creating the best fitness routines and choreographies for people to enjoy. Fitness can be fun! As a co-founder of Partyfit®, I now get to share my choreographies and joy for dance and fitness, not only with my participants but also with other instructors and their participants.
Sharing a slice of my story with you brings me to my three core beliefs:
Love Yourself And Your Body
The first step to adopting a more active lifestyle or losing weight starts with loving ourselves in the now. We all have different bodies and fitness levels. Let's celebrate the different places at which we start our fitness journey. Exercise is not a punishment. Why would we keep punishing ourselves every day? Instead, we can see our workouts as a gift to ourselves. Now, this is something we can do every day. Love yourself and your body!
Love The Journey
Secondly, too often in life, we focus on the destination, the goal, or the results and forget that the best part of life is the journey. Enjoy each workout, each exercise, each movement, be proud, and enjoy the small step forward you feel every day. Love the journey!
Love The Community
As a teenager, the competition I felt as a figure skater from myself, peers, coaches, judges, and parts of the community became toxic. The competition brought me to quit not only figure skating but exercising altogether. My wish with VeroFitness is to build a community that is welcoming, non-competitive, diverse, inclusive, supportive, and empowering—a community that celebrates everybody's uniqueness and different paths. Love the community!
Let's do this together <3
Véronique